About Our West Portland Landscapers
Learn More About Preferred Landscape Services!
Founding: Preferred Landscape Services was founded in 1998; a small company focused on routine landscape maintenance. Changes to our services have expanded, but our commitment to quality, supported by honesty and dependability has remained the same.
Growth: 2007 brought growth and expansion as Preferred Landscape Services responded to demand for beautiful and functional landscape construction. Preferred widened our expanse of services to cover design and construction, as well as maintenance. Years of hard work and commitment to our customers elevated our small company to the "preferred" landscaping service it is today. We are now one of the largest residential landscaping service company in the West Portland area with over 110 residential landscape jobs completed and satisfied customers in 2018 alone.
Bottom Line: From routine maintenance of your yard to the major landscape overhaul, Preferred Landscape Services is the name customers in West Portland and the surrounding communities depend on. With all the other demands on your time, you need a dependable landscaping company for your property.
Meet David and Gabrielle Jensen: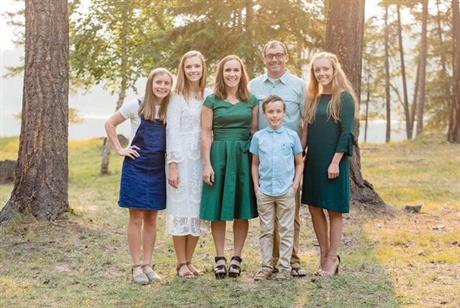 David and his family moved to Oregon in 2002. He and his wife, Gabrielle, attended Utah State University. David earned a degree in Horticulture / Landscape Design and Gabrielle in Secondary Education. With more than 20 years in the landscaping industry, David has built a solid reputation for providing quality landscaping care. Gabrielle excels at the administration work for Preferred, her attention to detail creates the structure and support necessary to meet the standards we've set. They have three daughters and one son and enjoy time spent outside skiing, mountain biking, boating and attending and volunteering at their church. Dave and his team at Preferred Landscape Services have generated and kept thousands of satisfied customers.
Meet Steve and Cindy Long:
Steve and Cindy are lifelong natives of Oregon. Born and raised here they have a love for Oregon. Steve and Cindy and their four children are very active with sports, they love camping and attending and volunteering at their church. Steve has over 20 years of sales experience and over ten of those are in landscaping. Steve has a zest for life and assisting people with their landscaping needs. He will meet with you to discuss a maintenance schedule, a yard clean up and irrigation needs. Steve will accommodate and fulfill your vision for your yard.
Preferred Landscape Services can offer you the following:
Bonded & insured landscaping professionals
Certified Backflow Testing
On-time arrival to appointments
Extensive first-hand industry knowledge
Professional-grade tools and training for outstanding results
Trustworthy & time-tested reputation for honesty & excellence
Guarantee: At Preferred Landscape Services, we take your satisfaction seriously. If you're ever unsatisfied with our services, we encourage and welcome you to reach out. We'll work with you to ensure your complete satisfaction.
Excellence: We're so committed to our customers that we have earned Angie's List Super Service Award not once, not twice, but every year since 2006! Contact Preferred Landscape Services now!