Giving Back to the Community
Preferred Landscape Services Is Dedicated to Our Neighbors
Beautifying our public spaces and memorials is a worthwhile endeavor. At Preferred Landscape Services, we have donated labor to enhance the Veterans of Foreign Wars memorial in Scappoose.
Our landscaping professionals have had the honor and privilege of helping out the Scappoose Veterans of Foreign Wars. The materials for the project was donated by Mutual Materials and Preferred Landscape Services donated the labor to dramatically enhance this touching memorial park.
We thank Frank Weber and all of those who have served our country so bravely.
---
Mr. Jensen and Mr. Nissinen:
Thank you for contributing to the labor efforts on beautifying an existing Armed Forces Memorial in Scappoose, OR. Your willingness to offer such support have set your company apart from all the rest. Your crews' high attention to detail and dedication in the construction of the Interlocking Concrete Pavers at the VFW Post 4362 Memorial truly enhances the existing structure into one that visitors will be honored to visit. Your crew installed approximately 300 square feet of Old Dominion pavers in only two days, in what should have taken three.
From all of us at Mutual Materials, we salute you and your crew for an exemplary job well done!
Very respectfully,
Fred Davis,
Mutual Materials
---
It was our honor to be involved in such a wonderful project!
Take a look at our before and after photos of the Veterans of Foreign Wars memorial in Scappoose.
Before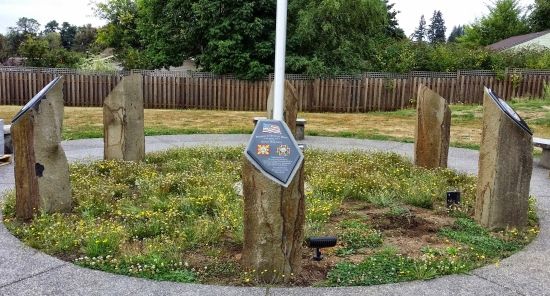 After